Alexandra's career
and workplace books have been covered in hundreds of media outlets and purchased by tens of thousands. She has published with large houses such as Random House and Penguin, association presses such as ASTD, and smaller, niche houses such as Career Press and SuperStar/Happy About, and her books are routinely used as university and continuing education texts.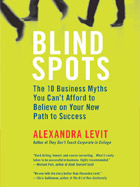 Don't let blind spots push you off the path to career success - especially in today's back-to-basics Corporate America. This book reveals what's different about the post-recession world and dispels popular business and career myths - like "any visibility is good visibility" and "do what you love and the money will follow" - that were never true to begin with. Visit the Blind Spots page.
People who undertake a successful career change have several common motivations for their decisions, including family, independence, learning, money, passion, setbacks, and talent. This exciting book includes detailed anecdotes from more than 35 individuals, who began their careers in one line of work and made dramatic and courageous transitions.
The third edition of the bestselling They Don't Teach Corporate in College is a practical guide that delivers the vital information new corporate employees need to succeed in today's tough business climate. The book's upbeat advice focuses on tangible tactics that recent college grads and experienced twenty-somethings can put to work immediately to enhance their employability.
Today's busy manager doesn't have time to spend weeks or months learning how to supervise today's young professionals. MillennialTweet:140 Bite-Sized Ideas for Managing the Millennials can be read in the space of a one-way commute, providing understanding and tools that will instantly make your twenty-something employees more effective.
In the coming years, the US Bureau of Labor Statistics predicts that this country will begin experiencing a hiring crisis. Despite the recent recession, with baby boomers retiring en masse there will eventually not be enough qualified workers to staff our nation's jobs. Success for Hire provides hiring managers and human resource professionals a practical road map for undertaking an effective hiring process that will help any business remain competitive in this talent-hungry market.
Do you have a job that's just like everyone else's? Are you looking for a nine-to-five… but wish you weren't? What if there was another option? Profiling sixty of the coolest careers on the planet — all rated in a national survey by twenty- and thirty-somethings — How'd You Score That Gig? outlines the steps you can take to get a job that makes you love getting up in the morning.